Central Station in Sydney, Australia, has successfully used Aeroseal
®
Duct Sealing Technology to seal leaky speed panel walls and smoke exhaust plenums in order to meet safety standards and pass building regulations
A component of the new construction phase At Sydney's Central Station included the use of speed panels – interior walls installed for the smoke exhaust and fire escape plenums. For this particular application, plenums were required to meet specific air-tightness leakage standards. Aeroseal® Technology was commissioned to achieve this quickly and effectively.
Mechanical Contractor:
Aerotight, Champz Pty Ltd. Yarralumla, ACT
Aeroseal Provider:
Aeroseal Duct Sealing (Aust) Pty Ltd, a trading name of Clean-Air (Aust). Unit 1/33 Achievement Crescent, Acacia Ridge QLD 4110
Goal:
Sealing of the smoke exhaust plenums in order to meet safety standards and pass inspection
Results:
Airtight results were successfully achieved and verified by independent testing, meeting the required standards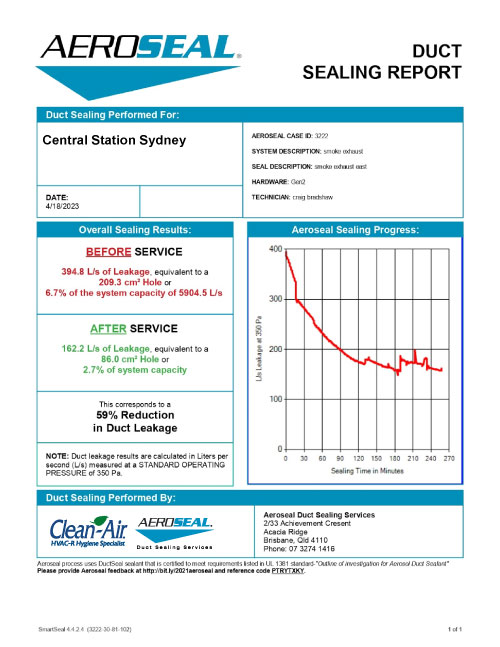 Building: Sydney Central Station
Location: NSW 2000, Australia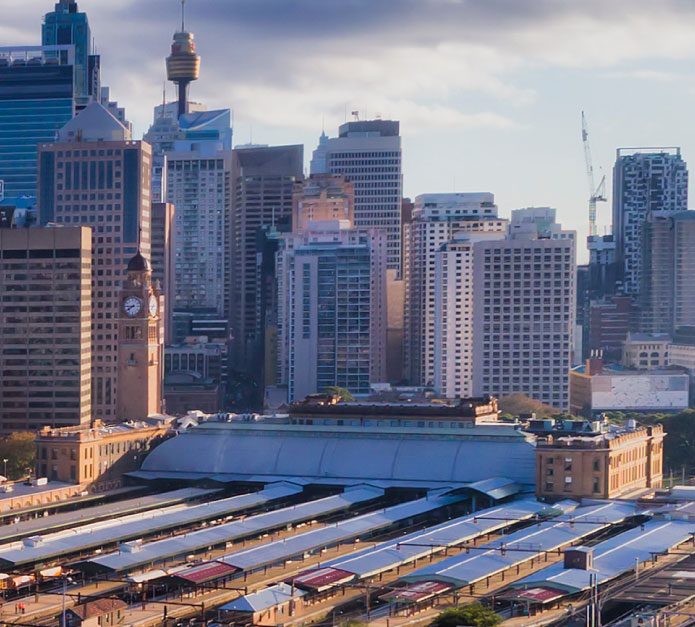 Photo Credit: Taras Vyshnya / Shutterstock
The new part of Central Station, Central Walk, is an 80 metre long concourse giving commuters escalator access to the above-ground platforms 16 to 23 for the first time in the station's history.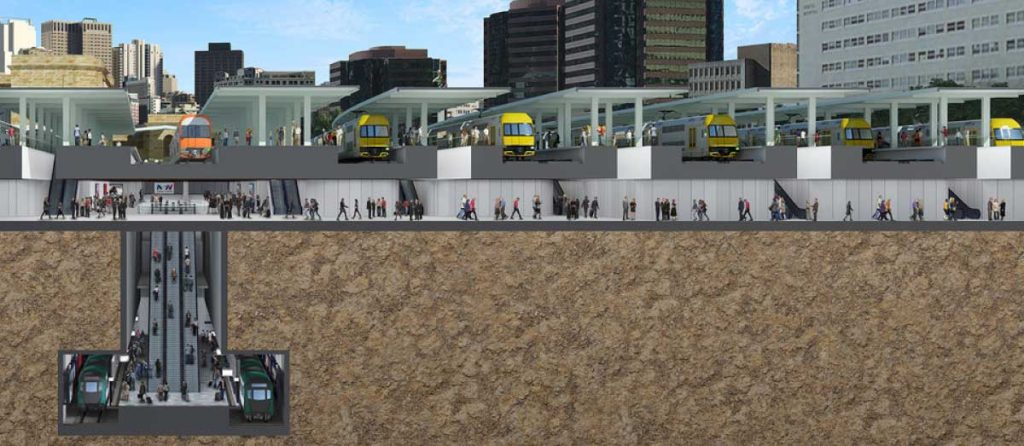 INSET Central Walk – a new underground concourse at Central Station which will better connect passengers to trains, buses, light rail and the new Sydney Metro. [2] Image Source : Sydney Metro
Transport Minister, David Elliott stated

"

Central Walk will be the arterial connection Central Station has never had – one fast and clear path linking customers to platforms, trains, buses, light rail, and in 2024, metro services,".

[1]
To create the new concourses and metro platforms, British contractor Laing O'Rourke excavated more than 375,000 tonnes of sandstone from beneath Central Station over a three-year period, having to build a bridge over rail tracks to allow trucks to access the site.
The other half of the underground concourse is expected to be progressively opened in the lead up to the completion of the metro line in 2024, including four lifts, 15 new escalators, the installation of cladding, services and tiles.
Included in the construction was the use of speed panel – walls, forming part of the fire escape and smoke exhaust plenums, all which needed to be sealed to specific safety standards in order to pass requirements.

INSET The process of speed panel assembly to create walls. Image Source : speedpanel.com.au
ⓘ The term "speed panels" is not standardised, and different manufacturers or regions may use alternative names or specific product names to refer to similar pre-fabricated construction components.
Prefabricated speed panel walls or components designed for rapid installation allows for faster construction times compared to traditional methods. The panels are manufactured off-site in a controlled environment and then transported to the construction site for assembly. Panels are designed to fit together easily and efficiently, reducing the need for on-site cutting and fitting. The process advances construction timelines however post-installation the panels can present small air gaps between them. Fixing this can be a very time-consuming process using manual sealants; finding, accessing, and sealing those leaks using hand sealing (e.g. mastic, tape) is impractical at best and can still deliver poor air-tightness results because of the scale and meticulous detail required for the task. This is where Aeroseal® Technology outperforms. Aeroseal® sealing uses an aerosol-based computer-controlled sealing method, sealing leaks with more confidence and more cost-effectively than manual methods while achieving better results.
Project Manager, Sean Maxwell comments "A plenum intended for smoke extraction needs extreme levels of airtightness to function properly. The specification for this project was extremely stringent, likely not practically achievable with the materials chosen. This was an obvious application for Aeroseal.
I have seen and specified Aeroseal countless times over the past 15 years in the United States and in Australia and have come to really trust it. It delivers as close as one can get to a guaranteed result.
The process for this project was straightforward – a temporary plywood block was placed in an opening in the plenum and the Aeroseal machine attached. After pressurising the space, the Aeroseal was injected into the airstream. As expected, the leakage steadily was reduced and documented.
This particular application was a challenge for the Aeroseal system – because of the very large diameter of the plenum (roughly 10m² cross-section and section lengths over 100m) and the very low airflows (less than 100 L/s for each whole plenum section at the end), the velocity to carry the aerosol particles was extremely low. Aeroseal excels at making long, complicated duct runs with many turns into very airtight systems very quickly. This unique application was a challenge. Nevertheless, as expected, the Aeroseal did its job. Extremely airtight results were achieved and verified by independent testing. For projects with strict timelines and high expectations, the room for failure is small. In situations like this, I believe Aeroseal should be a standard specification for assured success."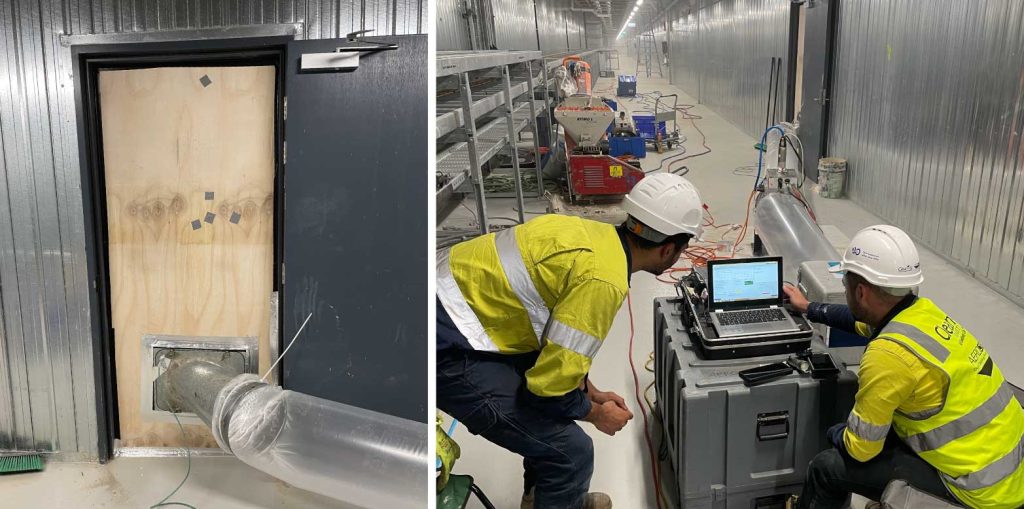 INSET Clean-Air's Craig and Ajmal use the Aeroseal equipment to pressurise the plenum through a temporary plywood block fixed to the plenum doorway. The Aeroseal solution was then injected into the airstream, steadily reducing leakage levels within. Image Source: Clean-Air (Aust).
The Aeroseal® team, a collaboration of Sean Maxwell, Craig Bradshaw and Ajmal Haris were able to seal the entire fire escape and exhaust plenums quickly and effectively. With the process complete, a certificate of leakage reduction was provided as evidence, ensuring the target safety requirements were met.
This is the first time the team had used Aeroseal® in conjunction with construction speed panels and the results were proven successful, demonstrating the versatility of the sealing method for a variety of applications within enclosed spaces.