Amongst all the amazing work our field team accomplishes are the fan restoration projects. The transformation of these super-size fan units from rust-to-robust is always satisfying to see.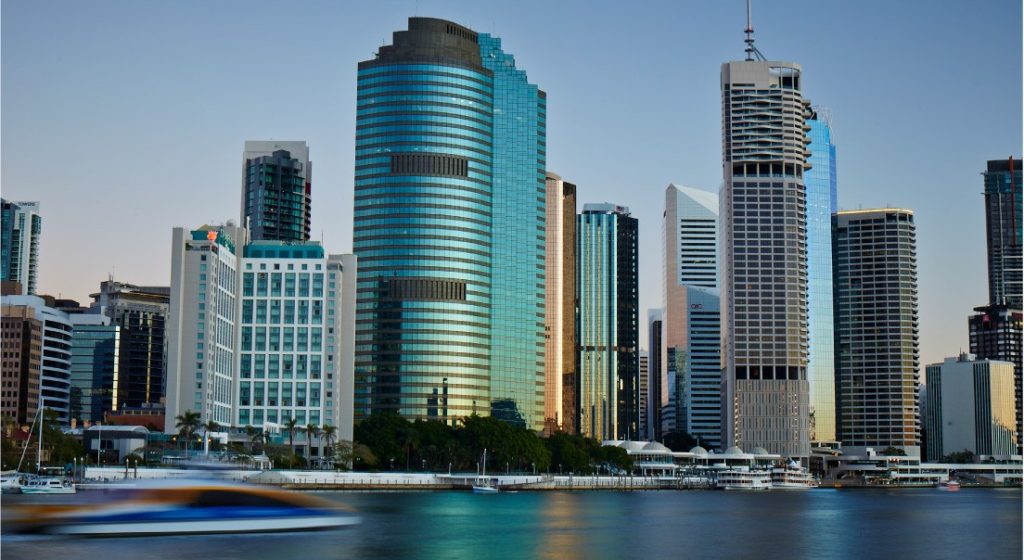 This recent project undertaken by Clean-Air's restoration expert, Craig Bradshaw, was at the iconic Waterfront Place, a building in Brisbane's premier riverside business precinct. It's typical example of Clean-Air's stringent restoration process from start to finish.
Following completion, we caught up with Craig for a Q&A on the project.
Q: How old was the fan and what causes a fan to corrode like this?
A: This fan has to be between 10 to 20 years old. Over time paint wears out due to age and contaminants like mould, dust and grease. A collection of dust and mould attracts moisture build up that is one of the main causes of rust and damage to painted surfaces, harmful/harsh chemicals can also do damage to existing paint by finding any cracks and existing rust which causes further corrosion and in turn causes rust and paint to let go in flakes.
Q: How long does it take to complete, and what's the process?
A: For most fan restorations generally takes about 1 week, usually 3 days for preparation then 2 days for painting.
Step 1.We start with a deep clean with high pressure and chemicals to remove any contaminants like dust, mould and grease build up.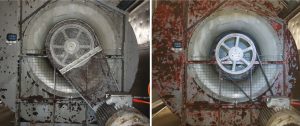 Step 2. Preparation of the fan
by sanding/grinding to remove all existing paint and to remove rust (bare clean metal surface) with the use of extraction and drop sheets around the fan and duct blanked off to stop any contamination escaping the work area. Each night we clean up to make sure.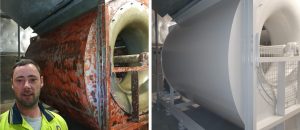 Step 3. Painting the fan by setting up extraction, drop sheeting the area (floor, walls, coils and any surrounding surfaces not being painted). A nice even layer of paint applied to all surfaces inside and out.
Q: What type of coatings did you use and how did you apply them?
A: We use a 2-pack industrial paint (Durebild Dulux). We start with the N11 Pearl Grey undercoat the final coat is the N43 Pipeline Grey. All painting is done using spray painting equipment (pressure pot, professional spray gun with compressed air).
Q: How long should this coating last?
A: Depending on the condition and how often the fan is cleaned you should get a full 10 years before you start to see any signs of wear.
Q: Is this typical of what you expect to find? What's the worst corrosion you've seen?
A: This fan is pretty much typical. I have been to fan restorations to find fan and barrel beyond repair, once you lose too much metal due to rust and corrosion you have all sorts of problems with balancing and restricted airflow. Once a fan is in such a condition in most cases it's recommended to replace – and replacement of a fan in a major building can be costly and time consuming. So ensuring regular corrosion protection measures are in place is our best and most economical recommendation, prolonging the lifetime of your HVAC equipment.
_______
Thank you to Craig for his contribution to this article.
Have a fan restoration project for the team? Contact us on 07 3274 2833 or email sales@cleanairaust.com.au to arrange a consultation