Kitchen Exhaust Cleaning
Clean-Air uses stringent processes inline with AS 1851-2012. On inspection we issue certification to confirm all standards have passed the requirements
Australian Standards for Kitchen Exhaust Cleaning AS 1851-2012
Kitchen Exhaust systems are an essential item for cleanliness and safety in a modern kitchen. Systems are designed for a specific duty of air flow and velocity to achieve the desired result.
How often should a Commercial Kitchen Exhaust be cleaned?
If you are a commercial kitchen operator (cafe, restaurant or fast food business owner), a building owner or a building manager, you have a duty to keep your kitchen exhaust system safe.
This obligation falls under the Work Health & Safety (WHS) regulations and under the food safety standards for commercial kitchens. In particular, the Australian Standard AS 1851-2012 outlines a series of minimum inspection, maintenance and record-keeping requirements for kitchen exhaust systems.
In the event of a fire, failure to comply with these may be deemed as negligent or failure of duty. It is very possible that your insurance company will classify your fire insurance policy as invalid if you are not compliant.
The repercussions of an invalid fire insurance policy can be catastrophic for both the business owner and the building owner. As a result, both parties should be playing an active role in ensuring compliance.
Manufacturers of kitchen exhaust systems often provide their own inspection and cleaning programs, which may be more stringent or frequent than those in AS 1851. Alternatively, commercial kitchen cleaning companies like Clean-Air Australia have stringent processes and systems that take into account AS 1851-2012 standards, manufacturers cleaning recommendations, as well as the unique usage of the cooking facilities which the exhaust system serves. For example, if you are a popular restaurant with a busy kitchen that handles fatty or greasy product, you could need more attention than a restaurant that is less busy.
Filter Cleaning vs. Canopy and Exhaust Cleaning
Grease Filters require more regular attention than kitchen canopies and kitchen exhaust systems. For example, Clean-Air Australia have clients that use our filter exchange service:
Once every 4 weeks
Once a week
Twice a week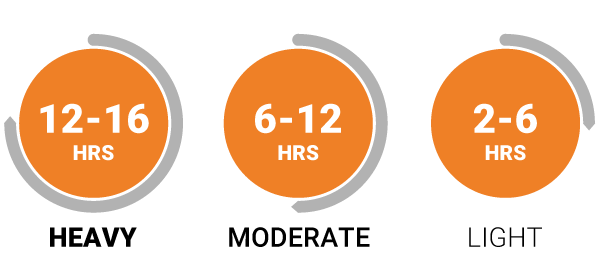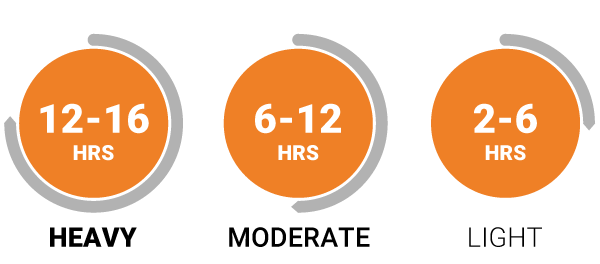 The frequency is totally dependant on the activities within your kitchen. A heavy use kitchen is considered to be 12-16 hours per day. A moderate use kitchen is considered to be 6-12 hours per day. While a light use kitchen is considered to be 2-6 hours per day. Of course, the food you are cooking is also very relevant.
Alternatively, a canopy and exhaust clean can vary from:
Once every 12 months (as outlined in AS 1851-2012 as the minimum)
Once every 6 months
Download our AS1851 Section 13 Kitchen Exhaust Maintenance Checklist here
Commercial Kitchen Cleaning Services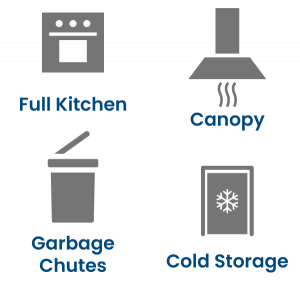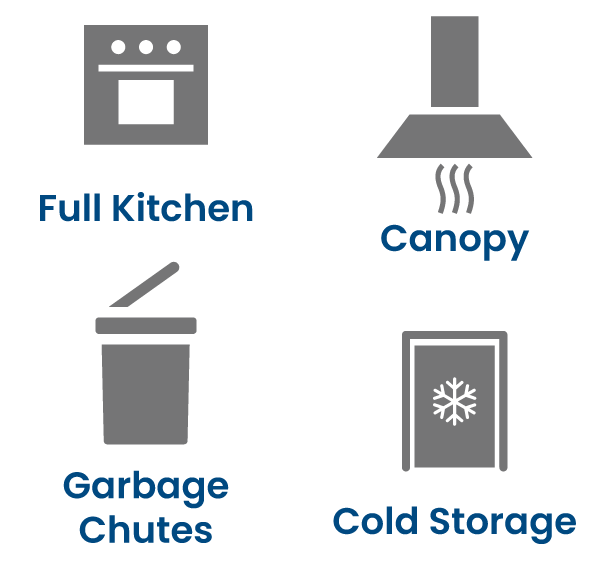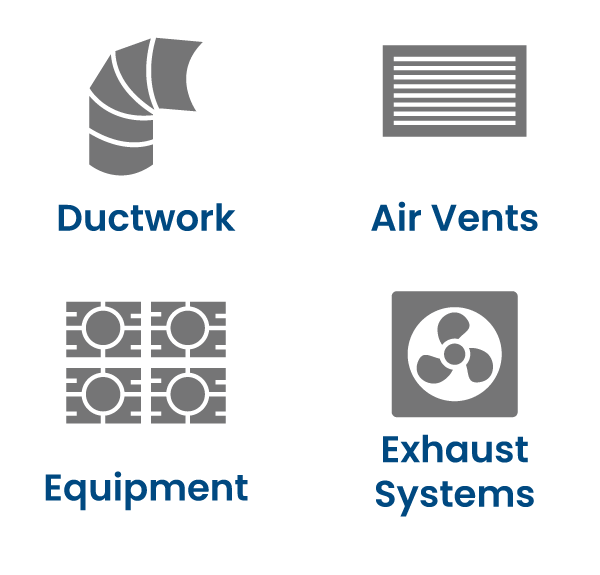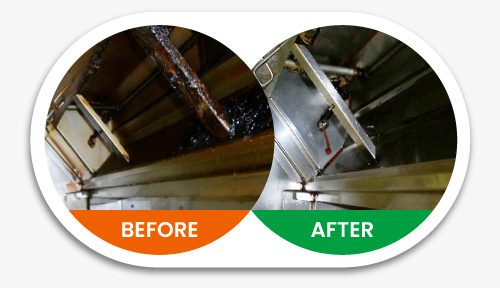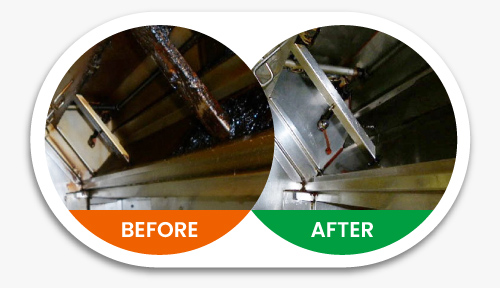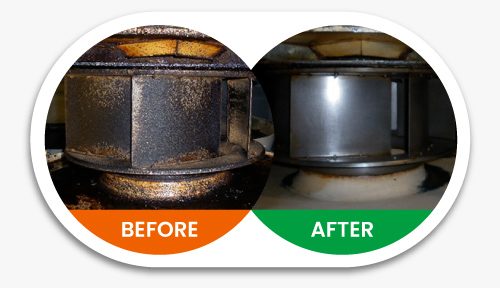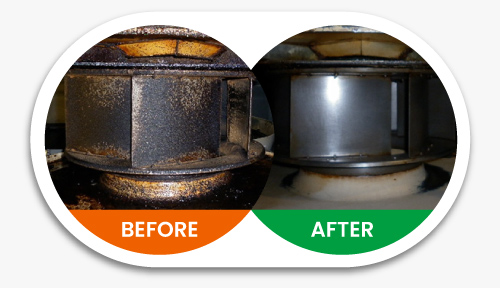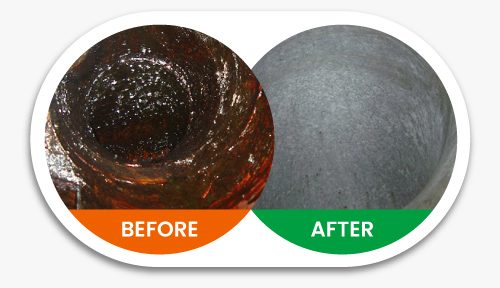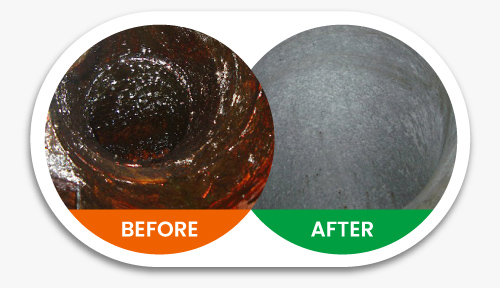 Systems need to be maintained to continue to achieve this design. Grease, smoke and other by-products of the cooking process can contaminate Hoods, Grease Filters, Ducts and Exhaust Fans. This affects their operating efficiency and Food Hygiene standards. Insurance companies require written certification of compliance to relevant standards including AS 1851. A well maintained system reduces the risk of fire, operates more efficiently and saves energy. It also provides a healthier, safer and more comfortable working environment.
There are no short cuts in cleaning a kitchen exhaust systems - full contact wiping and scouring of every surface is required. Poorly maintained or heavy use systems may require the use of specialised hot water cleaning systems and powered scourers to remove stubborn build-up. Specialised cleaning agents are required to clean and protect the stainless steel surfaces.
On completion of cleaning a Kitchen Exhaust system Clean-Air will issue a Certificate of Cleaning.
For more information on Kitchen Exhaust, Hood Cleaning and Cold Storage Hygiene / Deep Cleaning, speak to our expert team today
Start the conversation
Talk to the Clean-Air Team
For HVAC Hygiene advice and services, talk with our Clean-Air® Experts. Call our office on 07 3274 2833 or email sales@cleanairaust.com.au for info.
Should we call you? Fill in the form to arrange a call back.